Home > Online Shop > Furniture Shop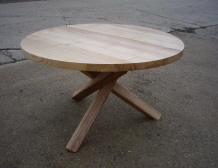 Ash spider leg coffee table
Approximately 650mm in diameter
Price: £320.00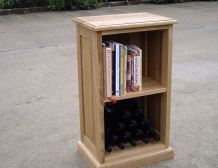 Wine/ Book Cabinet
850t x 500w x 360d (approximate)
This wine cabinet/ book case is created from English Oak with raised pannels on either side. Finished with application of an oil to enhance the grain before having a light layer of natural wax.
Price: £625.00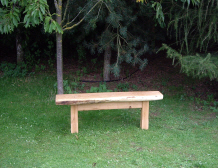 Green Oak Bench
created to your desired size
This green oak bench is secured by sinking the legs into the ground. It can also be made to almost any size desired. prices start from £340.00
Price: £340.00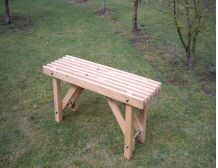 Contemporary Green Oak and Stainless Steel Bench
Created using locally sourced timber within Oxfordshire and the surrounding counties. This bench is bought to life with the contrasting materials of Oak and Stainless stell. Stainless stell is used to prevent any corrosion that maybe caused by the British weather.
(please note that other sizes can be created)
Price: £ 345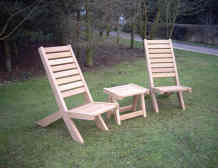 Green oak garden set
Please note this is currently on offer at this price
Hand crafted with timber sourced from Oxfrodshire, this pair of chairs and the table is ideal for the idylic spot in the garden.
Price: £ 689.99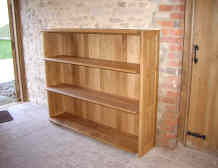 English Oak Book Case
A substantial and elegant traditional 3 shelf book case with book matched quater sawn pannels on either end.
Price: £ 995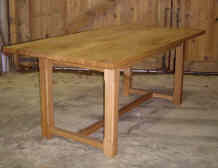 The Benson Oak Table
850 x 1800mm
Hand made to order with the ability to alter the specification to your requirements. This is a traditional style dining room table which is at home in a variety of different locations.
Price: £ 1,495.00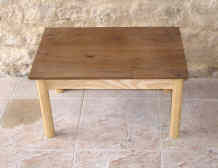 Walnut and Ash Table
600L x 390W x 320Hmm
All of the timber used to produce this contrasting table was sourced from Abingdon near Oxford. The solid dark walnut top enhancing the Ash under frame giving it a rather unusual however pleasing look to the eye.
Price: £ 124.99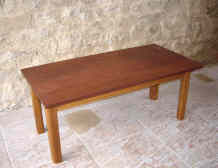 Sapele and Iroko Coffee Table
800L x 400W x 440H mm
Hand made Iroko under frame with the contrast of a well figured Sapele top. The top is percieved to be floating due to being supported by the middle of the rails only.
Price: £ 129.99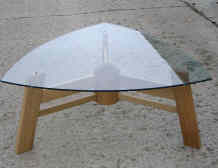 Glass and Oak coffee table
470h x 1100d
A hand made English Oak frame with the contrast of an eclyptical glass top. The glass top shows off the complexity of the frame and its unusual but pleasing contemporary look.
Price: £ 595
Green Oak Blocks
Green Oak block with rounded edges approximately 300mm cube. Ideal for plant stands or even out door seating.
We can create other sizes to your specification.
Price: £ 69.99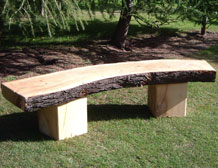 Rustic Green Oak Bench
Chunky green oak bench which will develop lots of character over time. Designed for leaving in the idyllic spot in the garden. These are made to order and vary in specification in terms of the length and thickness.
Approximately 1.9m long and 400mm wide and 450mm tall
Price: £ 345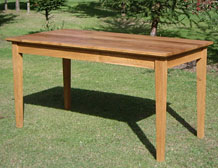 Farm House kitchen table
Traditional kitchen table with tapered legs, and a solid oak top. The timber for this table was sourced from just out side Cirencester in Gloucestershire.
1.5m long x 750wide x 800 tall
Price: £ 750.00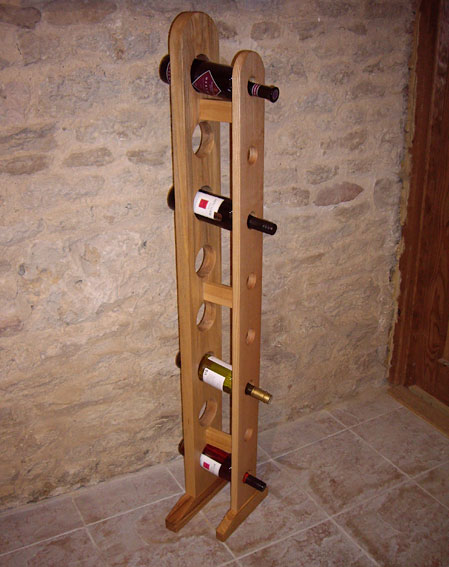 Ash Wine Rack (8 Bottles)
Show off your wine in a stylish wine rack designed to hold 8 bottles of wine and created out of Ash. The ash timber was sourced from just north of Oxford.
Price: £ 145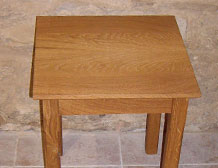 A pair of Oak side tables
A pair of solid oak tables with a chamfer on the under side of the top and on each side of the legs. Traditionally built with mortice and tennon joints.
Approximately 480mm tall and 390mm square.
Price: £ 345.00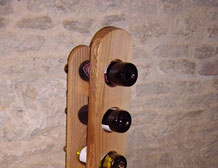 Olive Ash Wine Rack (6 Bottles)
Show off your wine in a stylish wine rack designed to hold 6 bottles of wine. Created out of Olive Ash to give a subtle contrast in colour. The ash timber was sourced from Heythrop Golf and Country Park.
Price: £ 120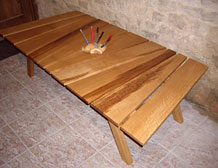 Brown Oak contrast slatted coffee table
1800mm long x 800mm wide and 460mm high
Created using traditional methods and locally sourced timber from an estate close to our workshop. Designed with the contemporary look in mind the timber contrast of brown oak takes the design one stage further.
Price: £ 595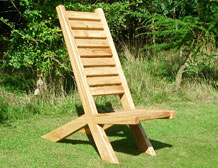 Green Oak Garden Seat
Hand crafted using timber sourced from Burridge copse near Hungerford Berkshire.
The ideal chair to have as a pair in the idyllic spot in the corner of the garden; and to relax in after a hard days work. A discount is available on order of 2 or more
Total height 1.2m x 1.2m long and 500mm wide
Price: £ 380